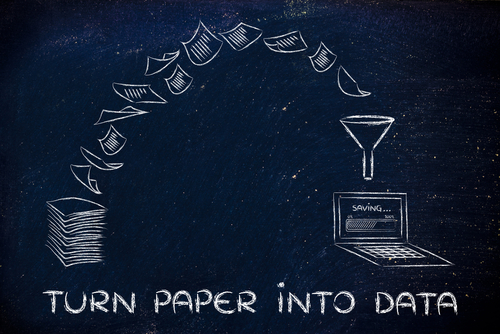 Data Capture - Processing Paper & Digital Documents Securely & Efficiently
The days where Document Capture simply meant scanning paper are long gone. Businesses now contend with data in a variety of formats coming from many different sources. Whether you need to manage documents in your email system, from a bank lockbox, paper documents or more, we have the right Document Capture Solution or Services for your company.
Document Capture Solutions
Critical to the success of any document management project is the capture component. Most document management systems are filled primarily with documents that originated as paper and were brought in through a scanning process. While on the surface scanning seems to be a simple process, no two organizations have the same requirements. That's why we offer an array of options designed to meet any organization's needs.
Distributed Capture
Organizations spread across multiple locations often face the challenge of how to consolidate information. Branch offices may receive paperwork that needs to be reviewed locally prior to sending it to a central site for final processing. Traditionally, this paper has been moved via U.S. Mail or overnight couriers. The costs associated with moving documents in this manner are tremendous and add up quickly.
A newer, better way to move these records is through our distributed capture solutions. Scan from a local location to a central repository via WAN or Internet saving time and costs to process documents. Information is available faster, there's no risk of losing documents in transit and shipping costs are eliminated.
Centralized Scanning
For some organizations a centralized scanning operation makes the most sense. Serving as an in-house service bureau catering to the needs of multiple departments requires high speed capture, indexing, and quality control solutions that are flexible and easy to use. When such an environment is required, we will work with your organization to design and implement the proper combination of software and hardware to get the job done.
OCR & Advanced Data Capture
Images are only part of the document capture equation. The true benefit of capturing documents is the ability to use the information within the documents. Whether it is simply capturing indexing information for easy retrieval at a later date or collecting the information needed to drive complex business processes we've got the tools and experience to handle your needs.
Our suite of data capture products greatly reduces or in some cases eliminates the need to manually enter the valuable data from the millions of paper documents – forms, invoices, remittances, and more – received daily at your organization. Captured data can be auto-posted to line of business software, reducing labor costs and human error.
Intelligent Document Upload
AccuImage's Portal Upload enables your organization to sync operations with your customers through seamless document upload. With intelligent document upload capabilities that allow for direct submission to your organization's backend systems, you can be assured that critical business documents are received and processed with minimal delay. Securely receive time-sensitive, indexed documents from business partners or customers anywhere in the world in real time, and queue them for immediate action within your organization.
Utilization of Multifunction Devices
Many organizations have invested in multifunction copiers only to discover that what they thought was a document management system falls far short of expectations. But with our solutions, there is no need to abandon that initial investment. Instead, we have the tools that allow you to capture the output of those devices and bring them into our document management solution. Rather than simply dumping output to a shared folder, let us help you move to the next level by putting that document to work. We'll help you capture pertinent information, route the document through rules based workflows and land it in a central repository that is simple to find and simple to use.